Vastu For Kitchen
Vastu for kitchen has been an important area of study since centuries. Hindus believe that a kitchen designed according to Vastu Shastra attracts health and happiness for the inmates, helping them live an abundant life. In this section we discuss the ground rules laid down by the system for kitchens.
Ideal Location:
The ideal direction for a kitchen is the Southeastern corner of a house. The second best choice is the Northwest of a house.
Best Directions For Kitchen Accessories According To Vastu
Type
Best Direction
Pointers
Entry door
North,  East, or West
The kitchen door must not be in any of the corners.
Gas Cylinder
Southeast
Empty cylinders should be kept in the southwestern direction
Cooking Gas
Southeast Corner

Gas stove must be a few inches away from the wall.
It must never be in front of the main door.
It should be placed in a way that the cook faces east when cooking

Refrigerator
Southeast, South, North or  West

Refrigerator must never be in Northeastern direction.
If the refrigerator is placed in the southwestern direction, it must be a feet away from the corner.

Equipments (e.g.Heaters, Conventional ovens, Microwaves, ovens)
Southeast or South
Equipments must never be kept in the northeast portion
Storing Racks
Western or  Southern wall
Commodities such as, grain, pulses, and spices, must be stored in the west or south.
Sink
North-East corner
The water source such as, water filter or pitcher, should be kept in the northeast.
Windows and Exhaust fan
East direction
The bigger windows should always be constructed in the eastern direction, while smaller ones must be towards south.
Clocks
South or Southwest Wall
–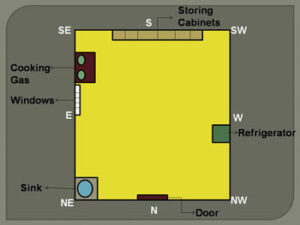 Flooring For The Kitchen
Ceramic tiles
Mosaic
Marble
Color Scheme According To Vastu For Kitchen
The color of the walls should be-
Yellow
Rose
Orange
Red
Chocolate
Avoid using the color black in your kitchen.
Things To Avoid
The kitchen must never be below or above a bathroom/toilet.
The toilet and kitchen must never share a common wall. Both the defects can have adverse effect on the resident's health.
Kitchen must never face the main entrance of the house.
The kitchen must never be located in the North or North East as this can badly affect a person's career.
As per vastu for kitchen, mid-north, northeast, mid-west, mid-south, southwest, and the center of a house should never be used for constructing a kitchen.
The Pooja room or temple must never be above the stove or kitchen sink as it brings bad luck.
Stove in the kitchen must not be visible from outside.