Vastu Tips For Pooja Room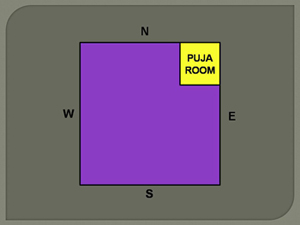 Get close to God and declare your eternal love for him by creating a haven of serenity, love and tranquility in your house. Beautiful Pujaghars created according to vastu can help the deity's shine their guiding light on every area of our being and help us live a happy, positive and prosperous life. The best corner for a pooja room in a house is North-east. Apart from this, you can also opt for directions such as North and East for constructing a holy place.
Objects Inside A Pooja Room
Best Direction
Advice
Lamp stand or up-lighter
South-East corner
A lamp according to vastu for pooja room should always be right in front of the Idols.
Aimirah or show-case
Southern or Western Wall
Should be lower than the idols
Idols
East or West

Height of the idols must not be less than 2" and more than 9".
Holy idols must never face south or north.
The idols must not be placed right in front of the entry.
The idols must never face each other
There should never be 2 idols of the same God in the room
Idols must be an inch away from the walls

Doors and windows
North or East

According to vastu for windows and doors, puja room doors must always have two shutters
There should be no door closer
Doors must not open or close automatically
They must not be made of material such as iron or tin.

Homekund or Agnikund
South-East direction
The offerings to the fire must always be made with the person's face towards east.
Mezzanine protruding out of the worship room
West or South
–
Water body
North or East
–
Puja Samigri
South East
–
Alter
North-East
–
Color Scheme And Floors For A Pooja Room: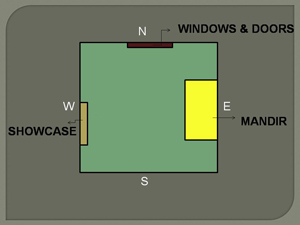 Colors For The Walls
Light yellow,
White,
Light blue or
Light yellow
Floor
The floor must be made of off white or white marble.
Worshipping The Dieties
The members of the house should face east or north while worshipping.
The idol's legs must be at the chest level of the worshipper when he or she prays.
People must never draw triangular patterns of Gods in the Pujaghar.
Uninterrupted chanting of the gods is very auspicious; it can be done by playing a cassette inside the pooja room.
One must never enter a pooja room without taking bath.
Things To Avoid According To Vastu For Pooja Room
Pujaghar must never be in the bedroom.
A Puja room must never be in the southern direction.
There should be no toilet above, below or adjacent to the worship room.
The Idols brought in the despoiled form from temples must never be kept in the pooja room.
No idol in the pujagjar must be in a desecrated form.
No heavy articles should be hoarded in the pooja room.
Valuable items such as jewelry or money must never be kept hidden inside the worship room.
The worship room must not be made above gas stoves or electrical appliances.
As also mentioned in Vastu for garden, Tulsi (Basil Plant) must be planted in the house.